... the taste of pudding lies in eating ...
Recommendation by


Prof. Dr. med. Ray Rosenman




who developed the concept of Type A Behaviour in cardiology: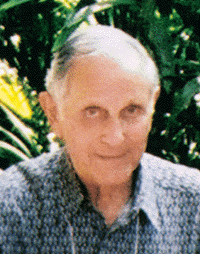 Dear Mr. Huebner,
You will re­call that, af­ter the In­ter­na­tional Stress Con­gress in Ha­waii last No­vem­ber, you were kind enough to send me a large sup­ply of mu­sic CDs – the in­ten­sive mu­sic prepa­ra­tion pro­gram "Pain" of Medi­cal Reso­nance Ther­apy Mu­sic – and a su­perb set of ear­phones, in or­der to try your meth­od­ol­ogy for my rather se­vere os­teoarthr­itis of the cer­vi­cal ver­te­bral area and also in­volv­ing the lum­bar area.
I am a clini­cal car­di­olo­gist (As­soci­ate Chief, De­part­ment of Medi­cine, Mount Zion Hos­pi­tal and Medi­cal Cen­tre of UCSF, San Fran­cisco), but also a re­sear­cher, who was Di­rec­tor of Car­dio­vas­cu­lar Re­search at SRI In­ter­na­tional in Menlo Park, CA. SRI is the for­mer Stan­ford Re­search In­sti­tute. With this back­ground, as well as hav­ing a hobby of clas­si­cal mu­sic, I would admit to hav­ing con­sid­er­able doubts about the claims of bene­fit from your sys­tem.
I tried the sys­tem for an ini­tial pe­riod of about 6 weeks, then stop­ped for two weeks, and then re­peated it. Al­though I don't ex­pect that it would "cure" os­teoarthr­itis, I can cer­tainly at­test to the un­ex­pected, sig­nifi­cant symp­to­matic bene­fit that the sys­tem pro­vides.
The re­sults have con­verted me from a doubter to a be­liever and a strong sup­porter of your rec­om­men­da­tions. I con­tinue to use the sys­tem daily, al­beit at re­duced audi­tion lengths, but with sus­tained marked de­crease of over­all pain and with per­sis­tent fur­ther symp­to­matic bene­fit for hours af­ter audi­tion times.
I am grate­ful for your help and pleased to at­test to the above in any way that would be of help to your ef­forts.
Yours sincerely
Ray Rosenman, MD